FACILITES
Enjoy a relaxing time while savoring the charms of the Atami region.
Spend your time at our two restaurants with three styles of dining,
the bar lounge with elegant private space,
or treatments of Spa by sisley improving your mental and physical condition.
We also offer souvenirs that bring some accents of FUFU to your lifestyle.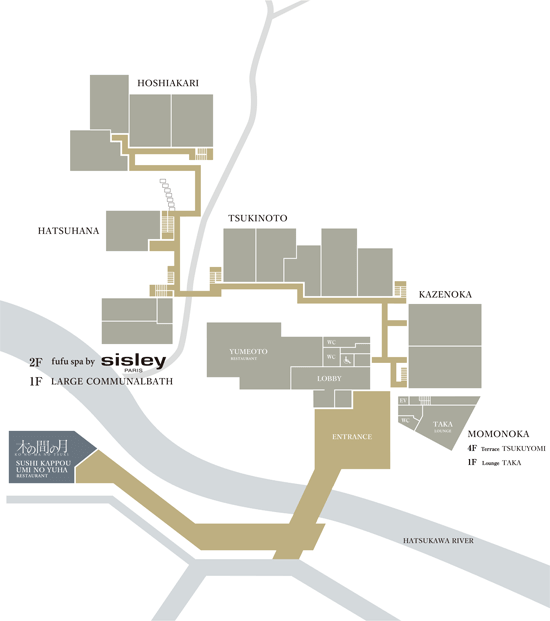 BAR LOUNGE

Relax in the elegant, candle-lit space of our bar lounge "TAKA".
Choose between the sofa area, designed to provide you with a private space, or take a seat at the counter, where you can linger over a glass of sake from our handpicked selection.
SOUVENIR

We offer a wide selection of items affiliated with FUFU Atami, ranging from products such as Western- and Japanese-style sweets made locally in Atami and Izu to the fragrances and amenities provided in the guest rooms.
TERRACE

By day, the terrace is an open space with invigorating views of the local scenery; at night, it becomes an enchanting nook lit by the flames of the fireplace.
You can gaze up through the clear air at the star-filled sky, and when fireworks are being held, this is the perfect spot to watch the display at your leisure.
RESTAURANT

"Dining Yumeoto" in the main building of FUFU Atami offers authentic Japanese cuisine prepared with thoughtful care and live teppanyaki. At "Sushi Kappou Umi No Yuha" in the Konoma No Tsuki building, you can enjoy sushi made with freshly caught local seafood. The seating is carefully designed to ensure privacy.
LARGE COMMUNAL BATH

Indulge yourself in the abundant hot water for which Atami's hot springs are renowned, and reinvigorate both body and mind with a relaxing soak in a spacious bath surrounded by forest.
SPA BY SISLEY

"Spa by sisley" focuses on improving guests' mental and physical condition.
Our attentive care will set you free from the daily routine and take you on a wellness voyage that indulges all five senses.